PPC LOAN Named Winner At The WealthManagement.com 2022 Industry Awards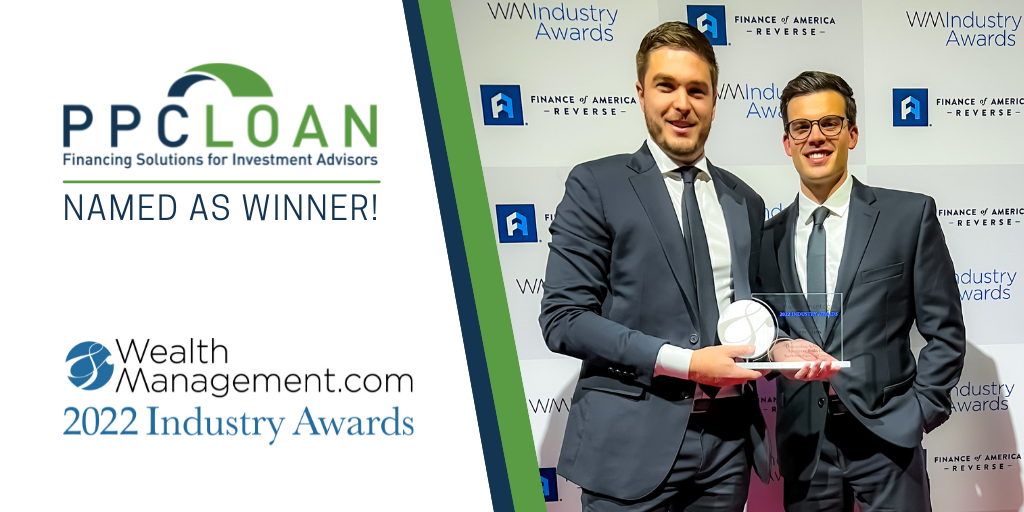 September 9, 2022 – The Woodlands, Texas: PPC LOAN named winner of the prestigious Wealthmanagement.com Industry Awards for the Investment Banks/Lenders/Succession Planning Consultants. Winners were announced at the awards ceremony at the Ziegfeld Ballroom in New York City on September 8, 2022.
PPC LOAN was selected as one of two finalists for the category, based on its initiative, "Creating a Path to Ownership for Nextgen Advisors Through Affordable Financing and Education."The organizers received over 1,000 entries in total from over 350 companies across the industry.As a finalist and winner, PPC LOAN will be featured in the Wealthies Circle on Wealthmanagement.com. Winning the award demonstrates the industry's commitment to promoting Nextgen leadership.
Since the inception of PPC LOAN's Nextgen initiative, hundreds of advisors have taken advantage of the educational resources while the number of loans for equity purchases among Nextgen advisors increased 33%. The goals for the initiative were to help bridge the leadership gap in the advisor industry and help design phased successions that were affordable for the Nextgen advisor and financially lucrative to the founding advisor. Since enhancing the Nextgen offering and launching an aggressive campaign in 2021, Nextgen LoansTM have increased by 33%. In all cases there was no down payment requirement for the Nextgen Advisor, making it an accessible option for advisors of all backgrounds. PPC LOAN team leaders have also delivered more than half a dozen panels or presentations for industry conferences such as the Devoe& Co G2 Summit and co-developed a number of articles and white papers including Creating a Path to Ownership and The Leadership Cliff.
About PPC LOAN
Since 2007, PPC LOAN has been empowering financial advisors with tailored financial solutions for acquisitions, equity purchases, refinancing, and other capital needs. Our consultative approach and industry experience ensure that we can develop flexible solutions for financial advisors of every size. With a strong commitment to transparency, trust, and building relationships, you will always know that we are working in your best interest. To learn more about our lending solutions for financial advisors, visit https://investment-advisors.ppcloan.com.