PPC LOAN Named A Finalist For The ThinkAdvisor Luminaries Class of 2022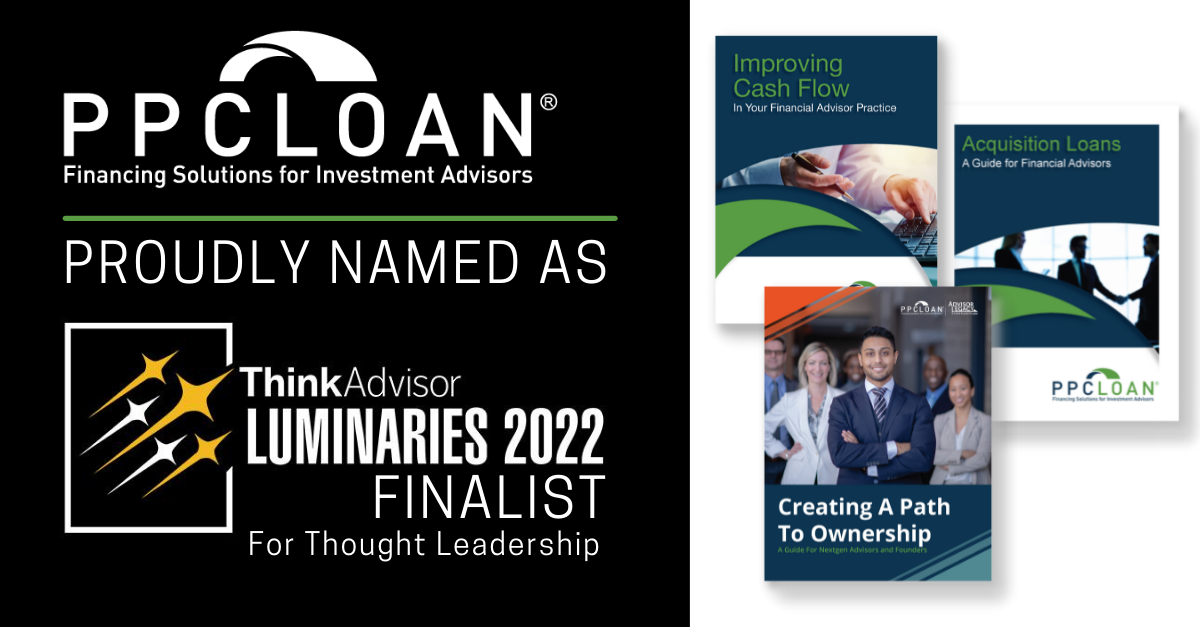 June 16, 2022 – The Woodlands, Texas: PPC LOAN named a finalist for the second annual ThinkAdvisor Luminaries, an award that is shining a spotlight on how individuals and firms are changing the investment advisory industry where it matters most. PPC LOAN was named a finalist in the Thought Leadership & Education Firms category based on its work providing education and guidance on all things related to advisor financing for acquisitions, equity purchases, and other growth initiatives.
In 2021, PPC LOAN launched an educational campaign designed to drive Nextgen ownership and promote M&A activity among small and mid-sized practices. Through industry partnerships, PPC LOAN developed free comprehensive guides on recruiting and retaining a diverse population of Nextgen advisors, how to create a path to ownership for Nextgen advisors, how to improve practice cash flow, and how to successfully engage in mergers and acquisitions. The education campaign resulted in 33% more advisors securing internal equity in their practice. Most of all, they were able to put much needed resources into the hands of advisors who otherwise would not be able to engage with consultants or fund transactions on their own.
The 2022 ThinkAdvisor LUMINARIES Awards Dinner & Gala will take place on Thursday, Nov. 17 in New York. PPC LOAN was also a winner in the category of Dealmaking & Growth for the inaugural Luminaries award back in 2021. View the full list of finalists for the 2022 ThinkAdvisor Luminaries.
About PPC LOAN
Since 2007, PPC LOAN has been empowering financial advisors with tailored financial solutions for acquisitions, equity purchases, refinancing, and other capital needs. Our consultative approach and industry experience ensure that we can develop flexible solutions for financial advisors of every size. With a strong commitment to transparency, trust, and building relationships, you will always know that we are working in your best interest. To learn more about our lending solutions for financial advisors, visit https://investment-advisors.ppcloan.com.