Ask the Expert at Deals and Dealmakers Summit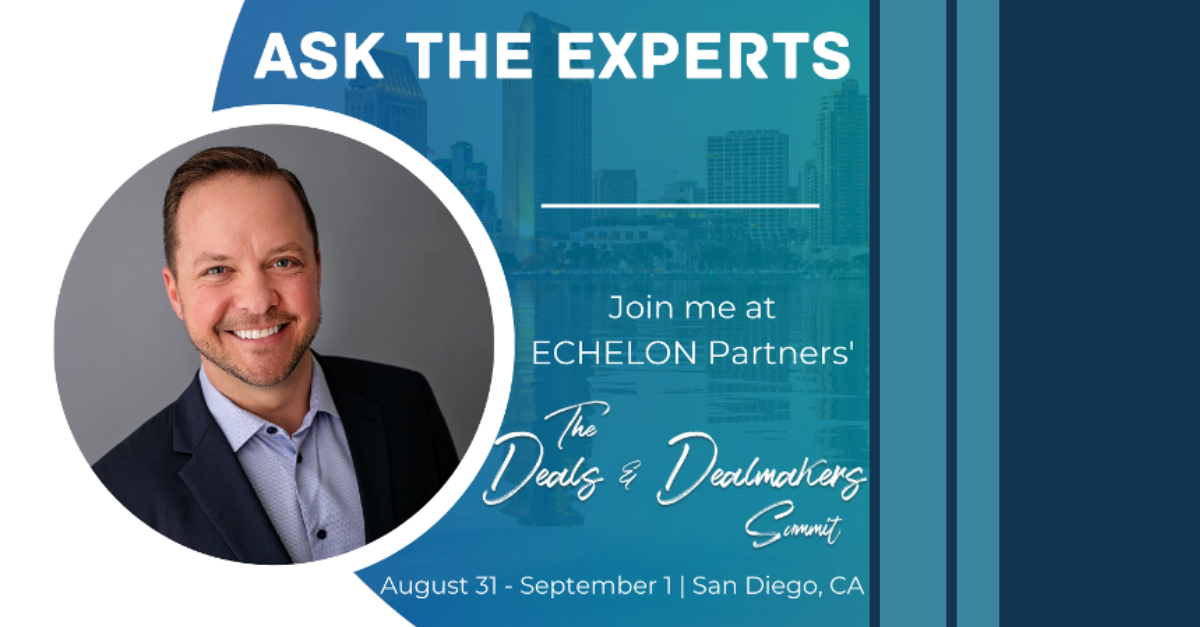 August 8, 2022 – The Woodlands, Texas: PPC LOAN is proud to serve as a sponsor and featured expert for the 10th annual Deals and Dealmakers Summit. The event, hosted by Echelon Partners, takes place in San Diego California, August 31st – September 1st, 2022.
Dustin Mangone, Managing Director of PPC LOAN, will serve on the Ask the Experts panel, along with hundreds of other industry professionals. Mangone brings over 17years of experience providing capital solutions to cash-flow based businesses, including capital for internal equity purchases, external acquisitions, and debt refinancing. This year marks PPC LOAN's 9thyear sponsoring the summit, which brings together the most influential dealmakers in the industry.
The two-day event features networking, a keynote debate on M&A trends and topics, and multiple informational sessions on advisor M&A, strategy, leadership, and solutions for deal making. Each summit includes over 50 M&A subject matter experts, along with hundreds of executives and dealmakers. Over its ten-year history, the Summit has resulted in over 150 M&A deals and helped to elevate the knowledge and connectivity of industry players. The Deals and Dealmakers Summit is presented by Echelon Partners, a boutique investment bank focused on M&A and succession planning for the wealth and investment management industries. This year's event takes place at the luxurious Intercontinental Hotel located on the water in San Diego, California. To learn more and register for the event visit https://www.echelon-partners.com/deal-dealmakers-summit-2022.
About PPC LOAN Since 2007, PPC LOAN has been empowering financial advisors with tailored financial solutions for acquisitions, equity purchases, refinancing, and other capital needs. Our consultative approach and industry experience ensure that we can develop flexible solutions for financial advisors of every size. With a strong commitment to transparency, trust, and building relationships, you will always know that we are working in your best interest. To learn more about our lending solutions for financial advisors, visit https://investment-advisors.ppcloan.com.