What Is Keeping Nextgen Advisors From Pursuing Practice Ownership?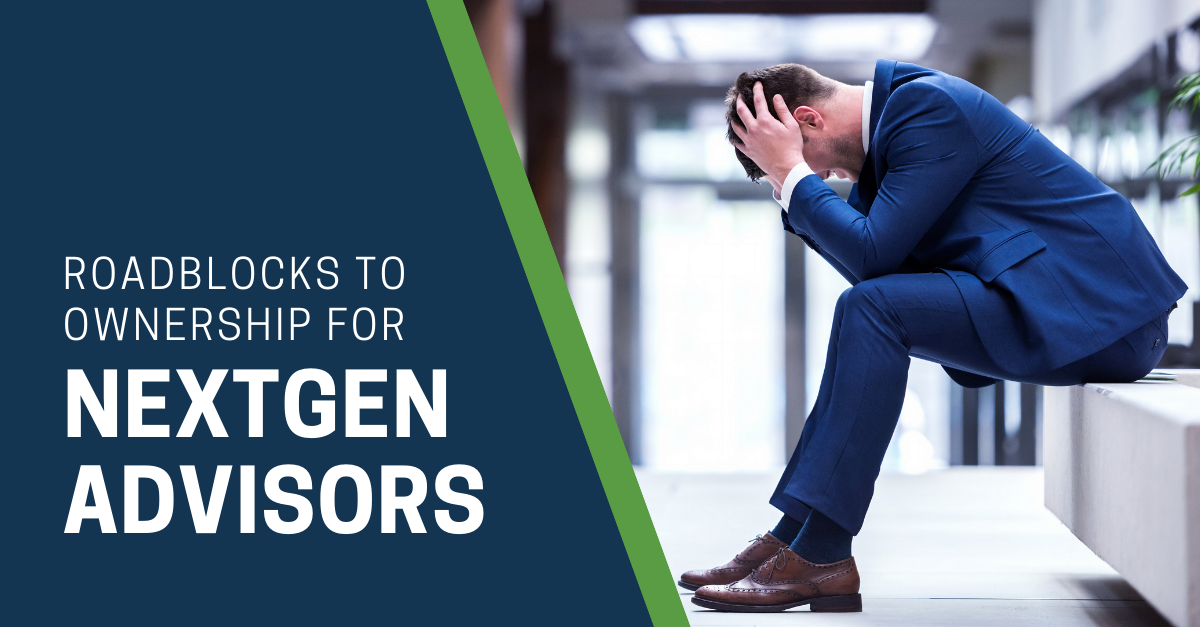 As the financial advisor industry faces a leadership cliff and talent shortage, there has become a greater need for advisors to actively recruit and retain Nextgen talent, not only to support the ongoinggrowth of the firm, but to create a bench of qualified successors. Despite efforts to fill the ranks with worthy successors, many Nextgen advisors are still facing obstacles when it comes to acquiring equity in the firm. Though many factors can impede a Nextgen advisor from pursuing an equity purchase, there are two main issues expressed by advisors: affordability due to competition from outside buyers and understanding the financing options.
Competition from Outside Buyers
The M&A market for independent advisors and RIAs has evolved greatly over the last 10+ years and so have the available capital options.Considering the industry's succession challenges and the low cost of capital, there has been some consolidationwith many smaller firms being acquired by larger firms.  Furthermore, it has resulted in increasing valuations and premiums being paid when compared to the technical valuation in many cases.  This demand has given the founding advisors an option to sell externally with larger cash payments at closing than arguably any time in the past. As a result, Nextgen advisors who lack equity and capital are rarely able to compete with external buyers for 100% purchases.
This issue is compounded by the fact that, although advisors make a living helping clients prepare for their future, few advisors actively plan for their own succession. This lack of planning can lead them in search of a successor very near to the time they plan to retire. A founding advisor(s) may expect their associate advisor(s) to buy them out but are often surprised to learn that an internal successor cannot afford to execute a complete buyout, especially at the premium larger firms are willing to pay.Affordability for equity purchases for Nextgen advisors is made possible largely through a phased succession strategy which allows a successor to finance manageable tranches while building debt free equity in the practice.
Financing Concerns
The other factor keeping Nextgen advisors from seeking equity is a lack of knowledge around financing options. Despite an increase in specialty lenders serving the market, many Nextgen advisors falsely assume they must finance equity purchases with personal capital, home equity, or through seller financing. Few are aware that there are lenders who have designed internal equity purchase loan programs specifically for advisors. These loan programs work within the guidelines of the advisor's broker-dealer or custodian and are often favored by firms who wish to keep the practice "within the family."
Many succession experts and specialty lenders are working hard to fill this gap in knowledge and empower Nextgen advisors and founders with tools and resources to design phased succession strategies that benefit both parties. One such resource is the Creating a Path to Ownership guide developed by PPC LOAN in tandem with succession experts Advisor Legacy. Many broker-dealers and custodians are also working to create leadership development programs for Nextgen advisors to help them develop the skills and competency to move in to practice leadership, as well as provide them with the resources to make equity purchases. This means that despite misperceptions among Nextgen advisors, the opportunity for Nextgen advisors to start building equity in their practice is there, as are the resources to make it happen. 
Looking to make an internal equity purchase in your practice? Learn about our NextGen LoansTM.