Should Advisors Get Financing Through Their Broker Dealer?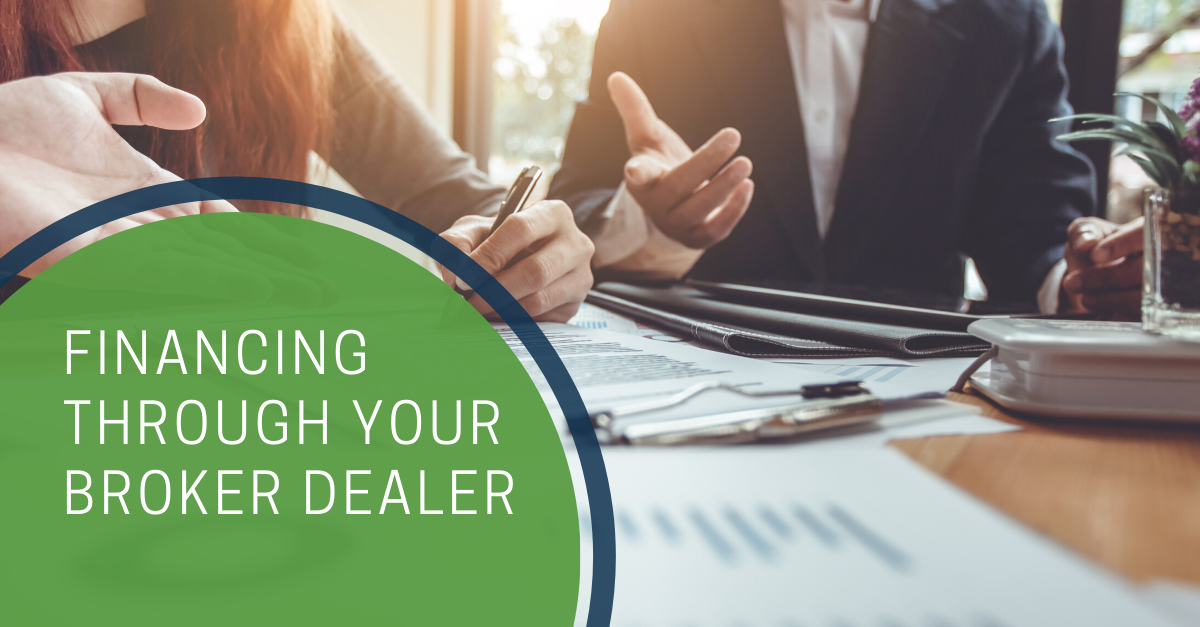 The relationship between an advisor and their broker dealer is a positive and mutually beneficial partnership. Broker dealers actively build resources and tools to help their advisors grow and it makes sense for advisors to leverage those resources—most of the time.
Recently Wealth Management published an article advocating for financing an acquisition through your broker-dealer. It may seem natural to leverage this form of financing, but there are some things to consider before committing to this arrangement.
Impact on Your Ability to Move
Advisors can and do change broker dealers or shift completely from the IBD channel to an RIA. If the advisor does move, the loan procured through their broker dealerwill likely have a stipulation that it be paid in full in the event the advisor disaffiliates with the broker-dealer. This is because they made the investment in an advisor tied to their organization, which ultimately benefits the organization, not just the advisor. Once the advisor leaves, there is no longer an incentive for the broker-dealer to provide this benefit when they no longer have those assets on their platform or no longer receive an override on the business. Therefore, advisors have to refinance before making the move and shift the obligation to a third-party lender. Still, if you are considering moving in the near future it may be worthwhile to avoid the hassle and seek third-party lending from the start.
Impact on Cash Flow and Future Investment
Some broker dealers will tie repayment amounts to a percentage of the firm's revenue rather than offering a fixed payment option. This allows payments to fluctuate with revenue so that the firm can always meet its obligations. However, if the firm grows, any increases in revenue would result in the advisor paying down the debt obligation sooner than expected. Although this would pay off the loan sooner, it does limit the advisor's ability to redirect cash flow that could be reinvested in the firm or used elsewhere. If an advisor wants the freedom to choose how excess revenue and profits are used, they may want to consider a third-party lender with a traditional amortization schedule and fixed payments.
Impact on Succession Plans
When broker dealers provide financing, some will only do so for acquisitions or needs that result in the advisor bringing over new assets which is beneficial to the broker dealer. Typically, phased succession plans don't directly contribute to the acquisition of new assets. As a result, many broker-dealer loans won't provide financing to facilitate phased succession plans, buy-ins/buy-outs, and internal equity purchases. Successions are a significant part of a firm's evolution and advisors need options to not only acquire new business, but new firm leadership as well. Again, this is where a third-party lender can provide flexibility so that advisors can operate their practice as they see fit.
What Else Lies in the Fine Print
Each broker dealer is unique; so is their approach to internal financing. While there may be value in borrowing from your broker-dealer, consideration needs to be given to how this could impact and advisor's ongoing capital needs whether it be succession needs or others such as working capital or lines of credit. The broker dealer's position as a lien holder could limit your access to these types of capital as well.  It's important for advisors to learn all the details of the loan obligation and weigh them against their practice goals and needs.
Look at Your Options
The best thing for advisors to do is to learn about all of their options and carefully evaluate them before making a decision. Broker dealers, local banks, and third-party lenders all offer different loan options. Most third-party lenders can provide a term sheet highlighting the general terms of a loan as well as advise you on what's available to meet your specific goals. Too often advisors speak to one lender and assume that the terms are the same for all. Lenders can vary greatly, depending on the types of loans they offer and their familiarity and involvement with the financial advisor industry. Its worth taking the time to seek out options. Don't make a commitment before you have shopped around.