How the Coronavirus Crisis will Impact Access to Credit for Financial Advisors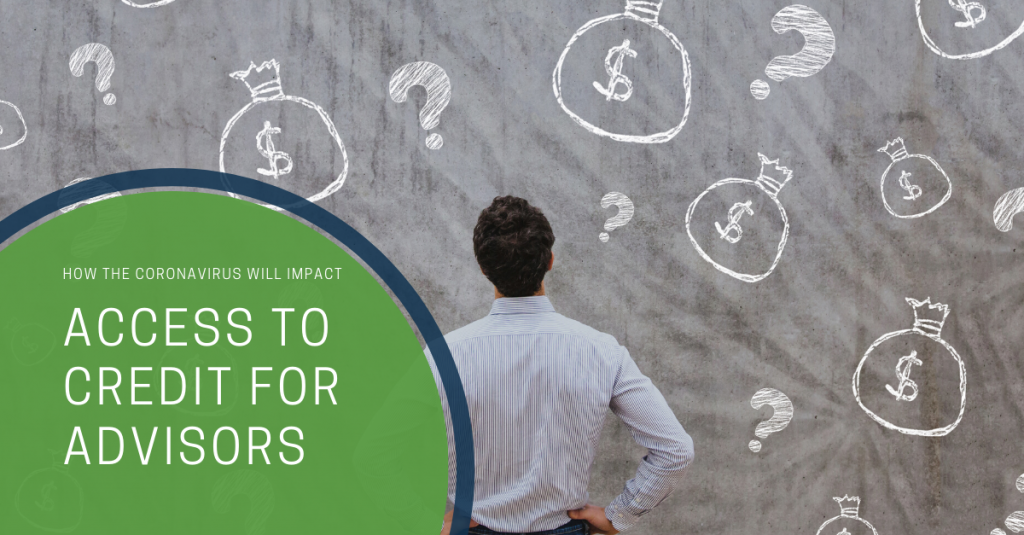 Over the past few months, the Coronavirus has made a significant impact on many industries, and especially financial markets. This in turn, has impacted both the earnings of financial advisors and the values of their businesses. We can't say for sure how markets will act over the coming months, but we do expect to see it have an impact on access to credit for some financial advisors.
For many years, financial advisors did not have access to credit because lenders did not fully understand their business. This was primarily due to the fact that, unlike a traditional business, the value of a financial advisory practice is based on the goodwill of its clients instead of inventory and equipment. At its heart, a financial advisor owns a relationship not collateral, which is hard to quantify. Lenders didn't know how to value that relationship and use it to judge risk. As a result, many advisors had to rely on cash flow, personal assets, and seller financing to fund events such as acquisitions and partner buy-ins/buy-outs.
This began to change in recent years as new valuation methodologies were developed to create sound and dependable economic data. Coupled with a prospering economy and an increase in mergers and acquisitions deals in the financial advisor space, many lenders saw the opportunity and entered the market. However, as a result of the Coronavirus, we now predict that some of these lenders who are not fully committed to the advisor space will see it as riskier, begin to shrink their offerings, or look to restructure deals to fit their comfort. This is especially true when it comes to acquisition financing as not all lenders will have the flexibility to explore alternative deal structures, which is necessary given the current financial market.
On the plus side, lenders, like PPC LOAN, who have been a consistent source of capital in the financial advisor space and who have the flexibility and resources to support alternative deal structures will continue to loan money and help advisors with terms that preserve cash flow. To find the best loan products and terms, it's important for advisors to shop around and get offers from more than one lender. Don't take one lender's rejection or terms as an industry standard, as each lender have their own criteria, experience, and approach to lending.