Getting an Advisory Loan Across The Finish Line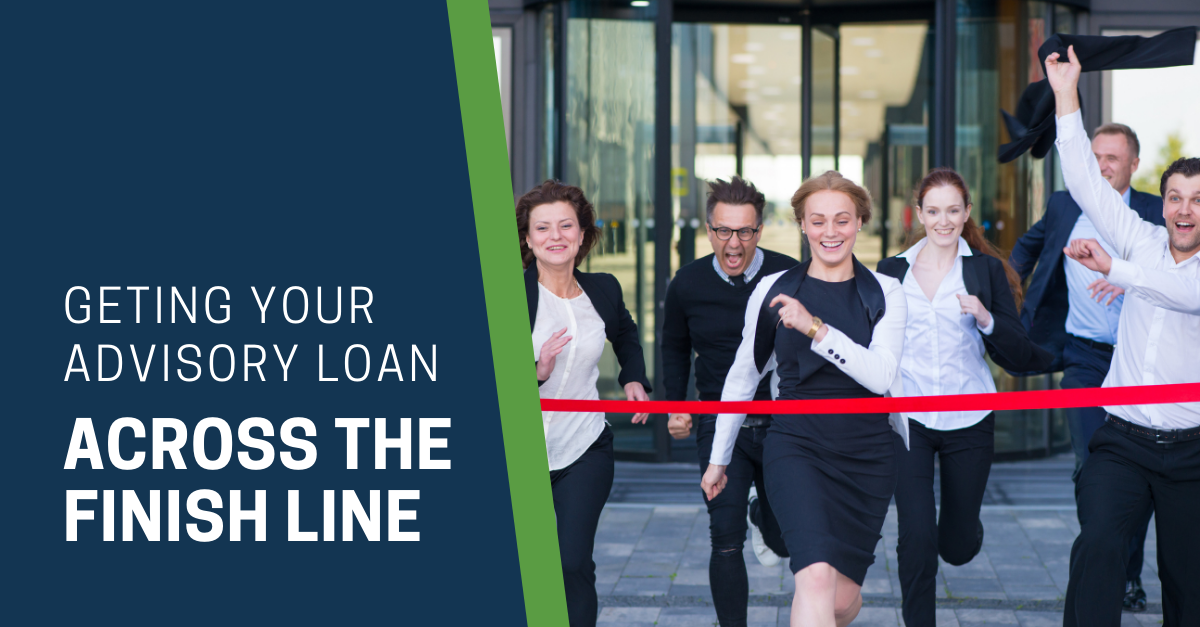 When seeking capital, either for an acquisition or other need, timing is everything. Often a seller will put a deadline on the deal, or you may need to time an equity purchase to the departure of a founding partner. In either case, ensuring a loan meets your timeline requires a collaborative relationship between all parties and a proactive approach by the key players. With that in mind, there are some things you can do as the borrower to help drive the loan to the finish line.

Be Responsive
As your loan moves from underwriting to the closing team, it passes through another layer of due diligence. Additional documentation will be required and the more responsive you are, the faster they can work through their internal checks and balances in an effort to get your loan funded on time.

Communicate Material Information
In addition to being responsive, it's also important to proactively communicate any material changes that could impact the loan. This means changes in your organization, the deal, or anything else that may influence the terms of the loan. Some changes are easy to make or have no impact at all on the loan, while others may significantly impact the originally approved loan structure. The sooner you communicate changes to your lender, the sooner they can address anything that impacts the loan, as well as advise on what to do to ensure the deal will go through.

Have Key Documents Ready
With any loan, you provide several documents when you first apply, such as an application, tax returns, and deal related documents. As your loan moves to closing, documentation about your business, the acquisition, purchase and/or partnership agreements, etc. will be required to close and fund the loan. Generally, the closing team will ask for:
Business entity documents: This includes shareholder/owner information if there are multiple partners, articles of incorporation, etc. 
Draft purchase related documents:Depending on the type of transactions this can include purchase agreements, seller notes, consulting agreement, and a look back provision if applicable.
Verification of various insurance requirements: This willconsist of life insurance, professional liability, and commercial liability & contents coverage.

The closing team may ask for other items based on the specific loan type or the deal itself, but in general, the above documents are required to close the loan.
Overall, the key to success in any loan, is open dialogue between all parties, especially the lender and the borrower, and a proactive borrower who is engaged throughout the process. It also helps to work with a specialty lender who is experienced in lending to financial advisors. Unlike traditional lenders, specialty lenders in the advisor space know and understand how an advisory practice operates and is valued, understand the structure of many broker-dealer and RIA affiliations, and can proactively provide resources and tools to make the lending process easier for the advisor.