A Great Source For Acquisitions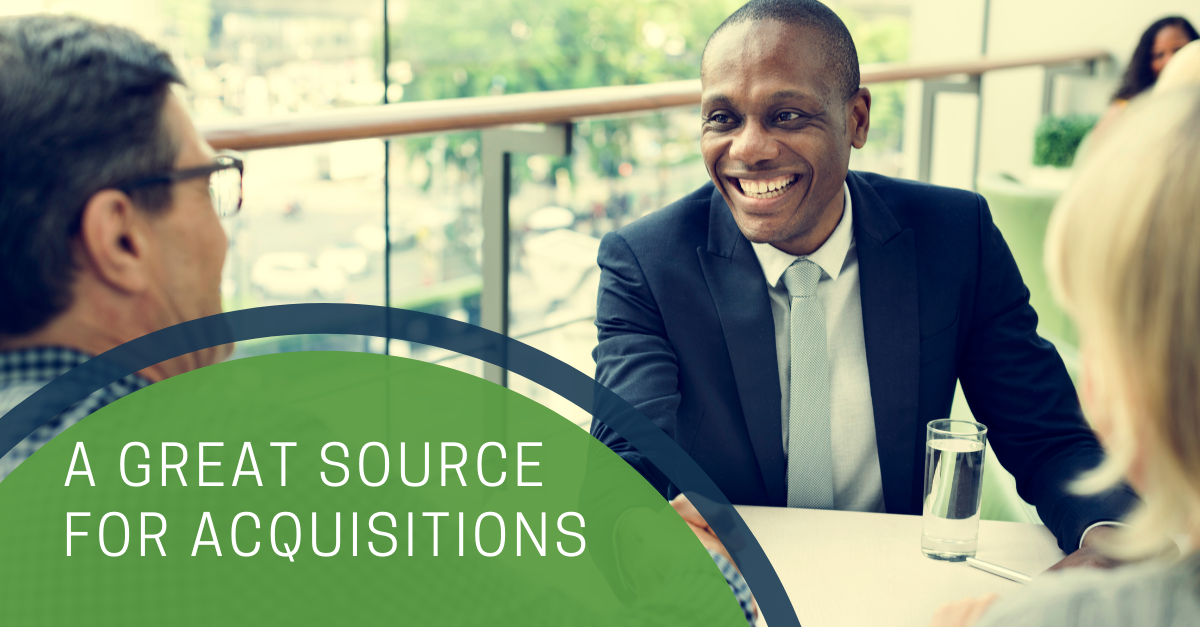 M&A activity in the financial advisor market has steadily increased over the last few years and understandably so. Acquisitions are an excellent way to quickly grow a practice. However, the supply of available practices for sale has not kept pace with demand creating stiff competition for practices among buyers. Many would be buyers concentrate their efforts on practice listing sites as it's the most readily available resource. But often overlooked, advisors who truly want to create a steady pipeline of right fit acquisitions should focus their energy instead on networking with solo advisors.
The majority of solo advisors do not have a successor or succession plan for their practice. Many of those same advisors are also contemplating scaling back their practice several years before they retire. These two factors make solo advisors an attractive avenue for serious buyers who plan to do multiple acquisitions. Advisors can easily secure a list of solo advisors in their area through their broker dealer or through networking with professionals who cater to the advisor market. When connecting with solo advisors it's important to not only take the time to learn how they've built their practice and their approach to client service, but to get to know them at a personal level so you better understand their motivations to sell. It's also important to explore multiple options with them including partial sales, mergers or sell and stay, and full acquisitions.
Partial Sales
The pandemic has triggered a wave of advisors who are now considering options that aren't limited to selling 100% of their practice. Senior advisors who aren't ready to retire but who want more time to enjoy life and family are looking to scale back their workload. This is a great way for new buyers to ease in to acquisitions while also building a relationship with an advisor who will sell the rest of their book in the coming years. Often, they give the first right of refusal on their full practice sale to the advisor who bought their partial book.
Mergers
Many solo advisors who have struggled during the pandemic, but who aren't ready to fully retire, are actively looking for larger practices they can "nest" in until they are ready to exit. They want access to the resources and support, and many also want to step away from the business side and spend their remaining years just serving clients. Mergers are also a great way to slowly transition clients from a solo advisor to a successor. The longer process is less jarring for clients and results in less attrition as they have more time to get to know the purchasing advisor and their team long before their own advisor retires.
Full Acquisitions
There still is and always will be advisors who are ready to retire and cash in completely. By networking with solo advisors ahead of time, you better position yourself as the person they call and are able to avoid having to compete in the open market for that opportunity. Advisors sell to those they trust, who's culture and style match their own, and who have taken the time to get to know them and build a relationship. Often, they will feel obligated to sell to you because you were willing to invest the time before the opportunity really existed. Again, if you are looking to acquire a practice, it's important to build relationships with solo advisors. Many are feeling the pressure of the pandemic and are looking to restructure their practice or partner with another advisor who can help them weather the storm. Be active in your area, get to know other advisors at your broker dealer, and make your intentions known when you find an advisor who seems like a good fit. You might just be the person they've been looking for.
Have questions about acquisition loans? Schedule a free consultation.